See the Activites Calendar for current Reunions 2018 info..
From PAW.
IN MEMORIAM:
Civil and environmental engineering professor emeritus DAVID BILLINGTON '50 died March 25 in Los Angeles. He
was 90. Billington came to Princeton as a lecturer in 1958, joined the faculty in 1960, and retired in 2010.
Engineering professor Maria Garlock said Billington showed that engineering is a creative discipline
- even a form of art. He humanized engineering in speaking of those who designed great structures, she said,
and he inspired people - engineers, students, and the public - through books, lectures, and art exhibitions designed for a general audience.
He created popular courses, including "Engineering and the Modern World" and "Structures and the Urban Environment," that helped bridge the gap between engineering and the liberal arts. At the time of his retirement, it was estimated that at least a quarter of all students had taken one of his courses.
In 2015 Billington was awarded an honorary degree from Princeton. "[H]e introduced us to the engineering pioneers who revolutionized the world and opened our eyes to the creativity of engineering at its best," the degree citation read .•
It rained on Alumni Day. Surprise. Actually, it Princeton-ed.
In attandance were Jean Fox, Bill Haynes and Charlie Rose. The awards speaches by Daniel Mendelsohn *94 and Charles Gibson '65 were among the best ever. Worth the price.
See you at Reunions!
Your hardworking executive committee had a meeting on 5 Feb 2018.
We did some long range financial planning. At our age "long range" has a limited meaning.
We have a room at the Nassau Club for Reunion Friday night. The club will probably be about $85 each, with everything. Carts can take us up there. I have already reserved an excellent piper. Sat night should be at the Schiede party, and you can't beat the price. The option is Forbes where we would be part of the 65th class dinner. Nice people, but not us.
David observed that we do not need a fancy directory for our 70th. Al volunteered to format it. Dottie can provide and Excel sheet with all sorts of class info.

Charlie
At our 67th.
Al Abbotts and Joan, Mary Alexander H'50, Nick Anderson H'50 and Sue Fou '94 SH'50, Bob Cronheim and Marion, Stu Duncan, Peter Erdman and Lynn Scheffey, Deeann Gutenkunst, Bill Haynes and Aline, Tex Lamason and Nancy, David McAlpin, Will Rivinus and Dickie Ann Boal, Henry Powsner and Kim Powsner Corfman '77, Jack Robinson, Charlie Rose and Beth Rose '77, Kent Young
Membership in the Society of the Claw for long and faithful service to Reunions used to be given only at five year intervals. I suggested that it be give to Old Guard classes, starting the year that Ole Bill was failing. So--
Abbotts, Cronheim, Duncan, Erdman, Osborne, Powsner, Rose, Fred Schluter
This year is has been awarded to Bill Schluter.
Friday dinner was in the Forbes dining room. Dottie Werner Bartolino H'50, provided a reception, music and excellent food. We were with much of the Old Guard so we were able to catch up with lots of friends from adjoining classes.
Beth Rose '77 took the pictures. Since we were in long tables with other classes on all sides, it was difficult for her to get shots of all. We'll have a different table arrangement next year.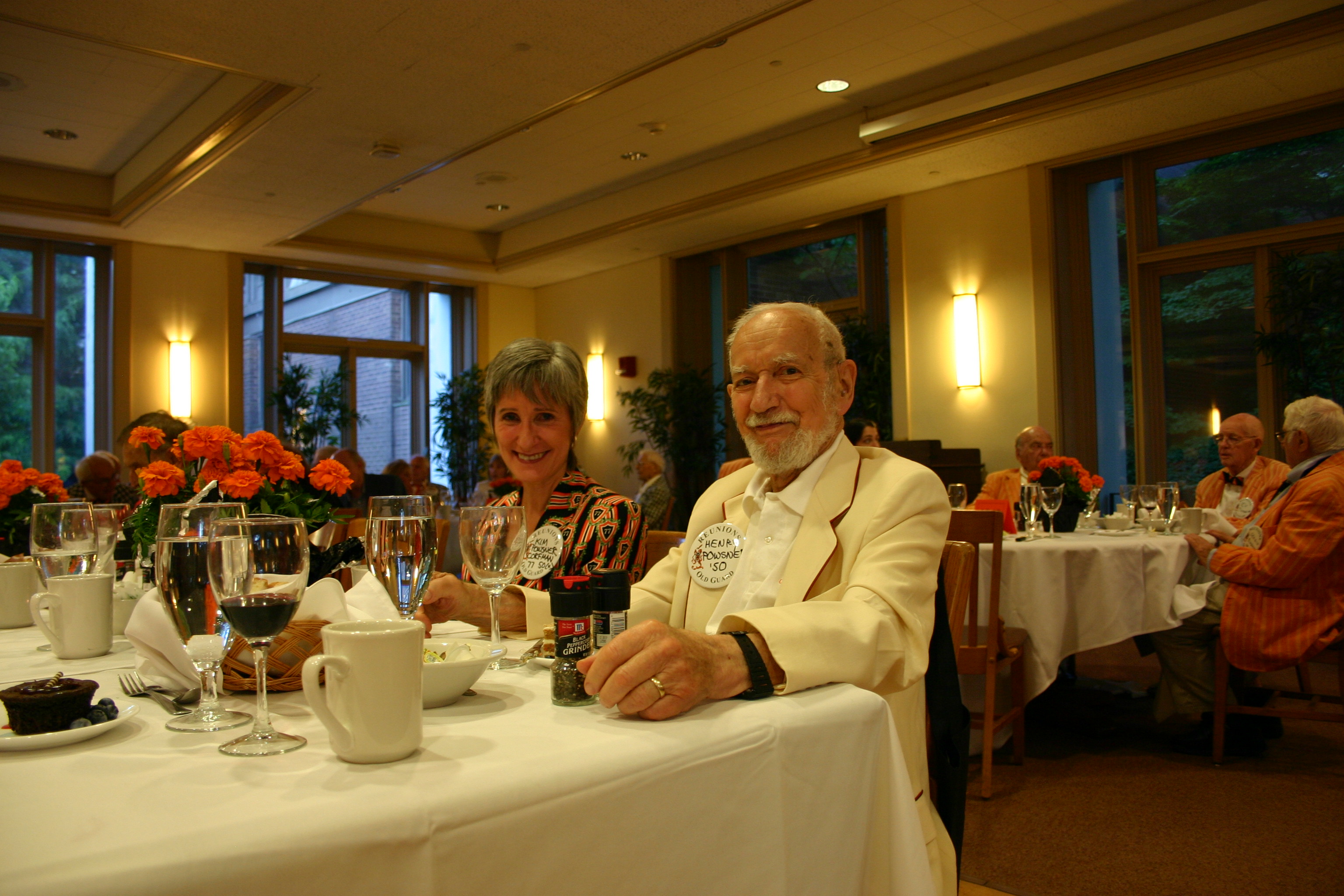 Henry and Kim Corfman Powsner '77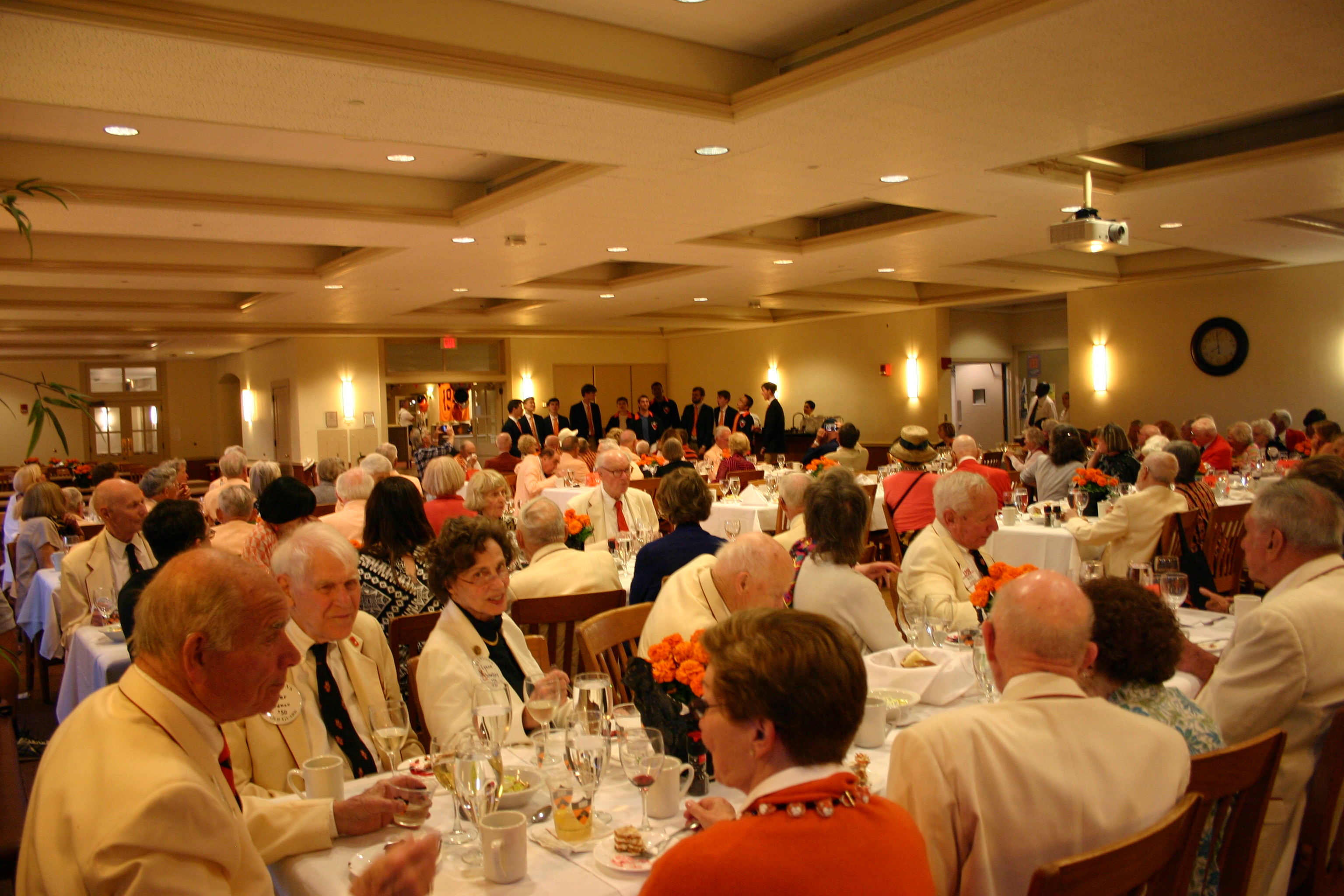 back left Charlie Rose, back center Marion Cronheim, to her left Tex Lamason, left forground Stu Duncan, Peter Erdman, Lynn Scheffey, David McAlpin and on the end Will Rivinus, in the forground Deann Guntenkunst
Singers in the background and JQ Robinson in the right front.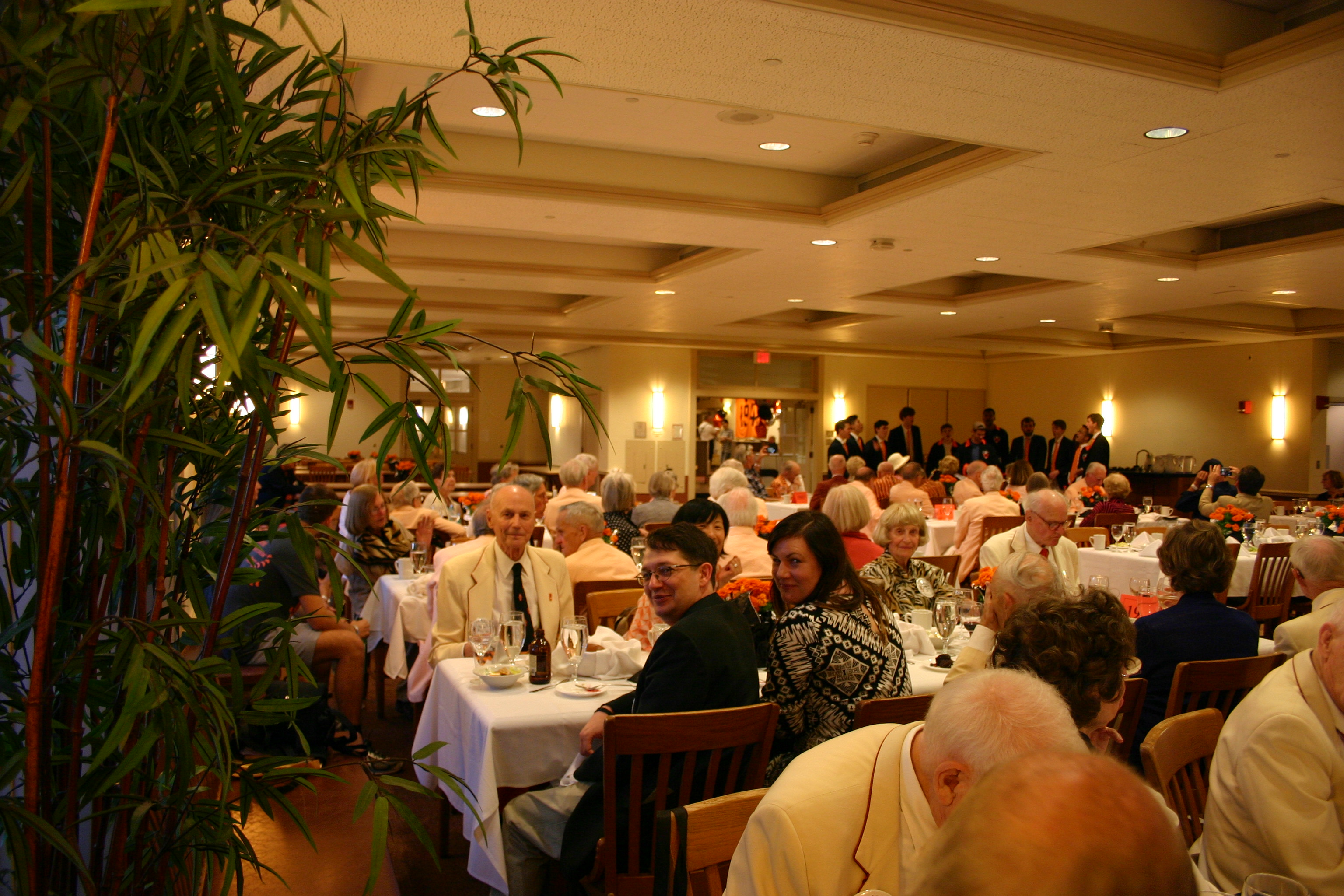 Charlie Rose, Nick Anderson, Susan Fou, Mary Alexander, Marion Cronheim, Tex Lamason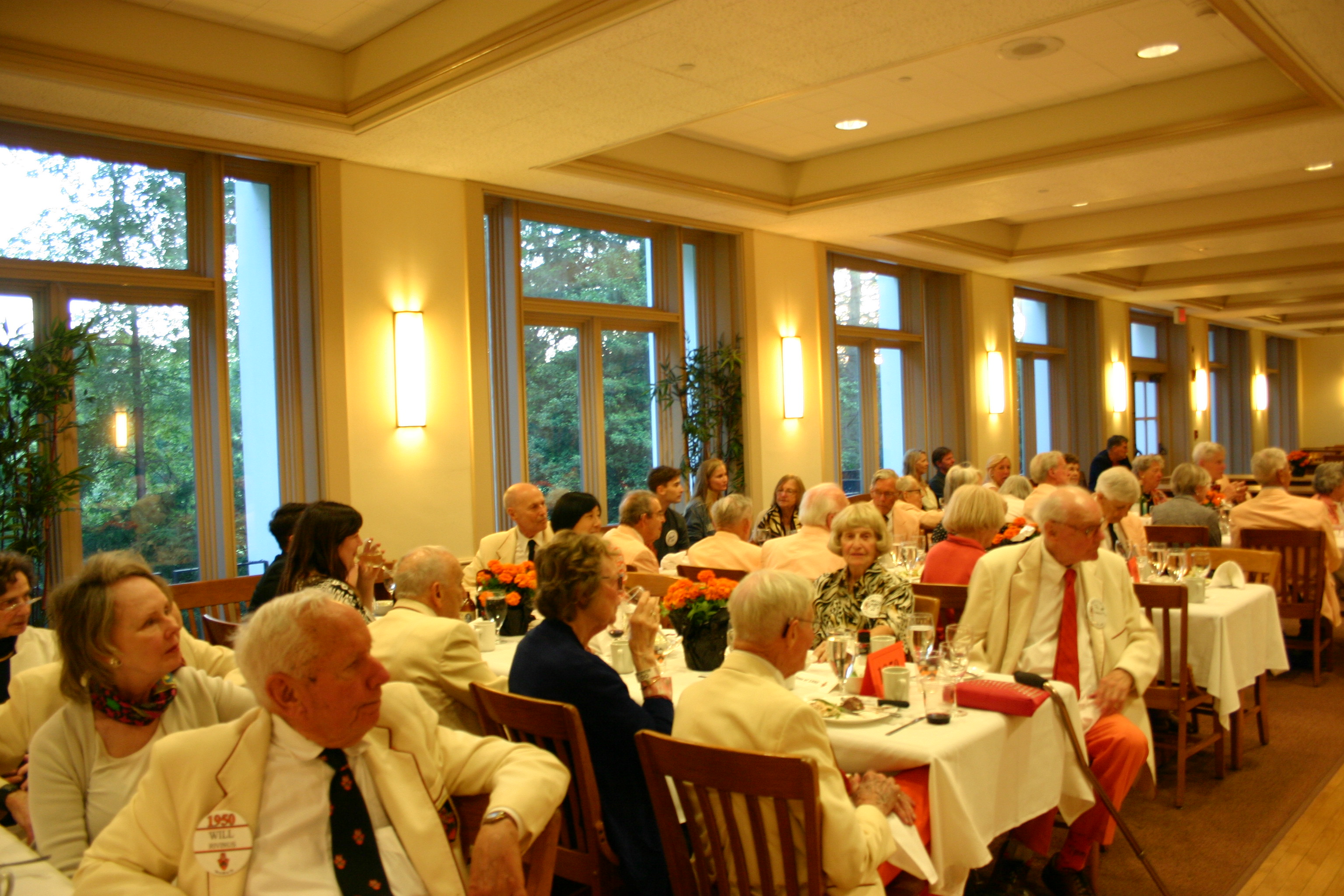 Dickie Ann Boal, Will Rivinus, Bob Cronheim, Nancy Lamason, Kent Young, Marion Cronheim, Tex Lamason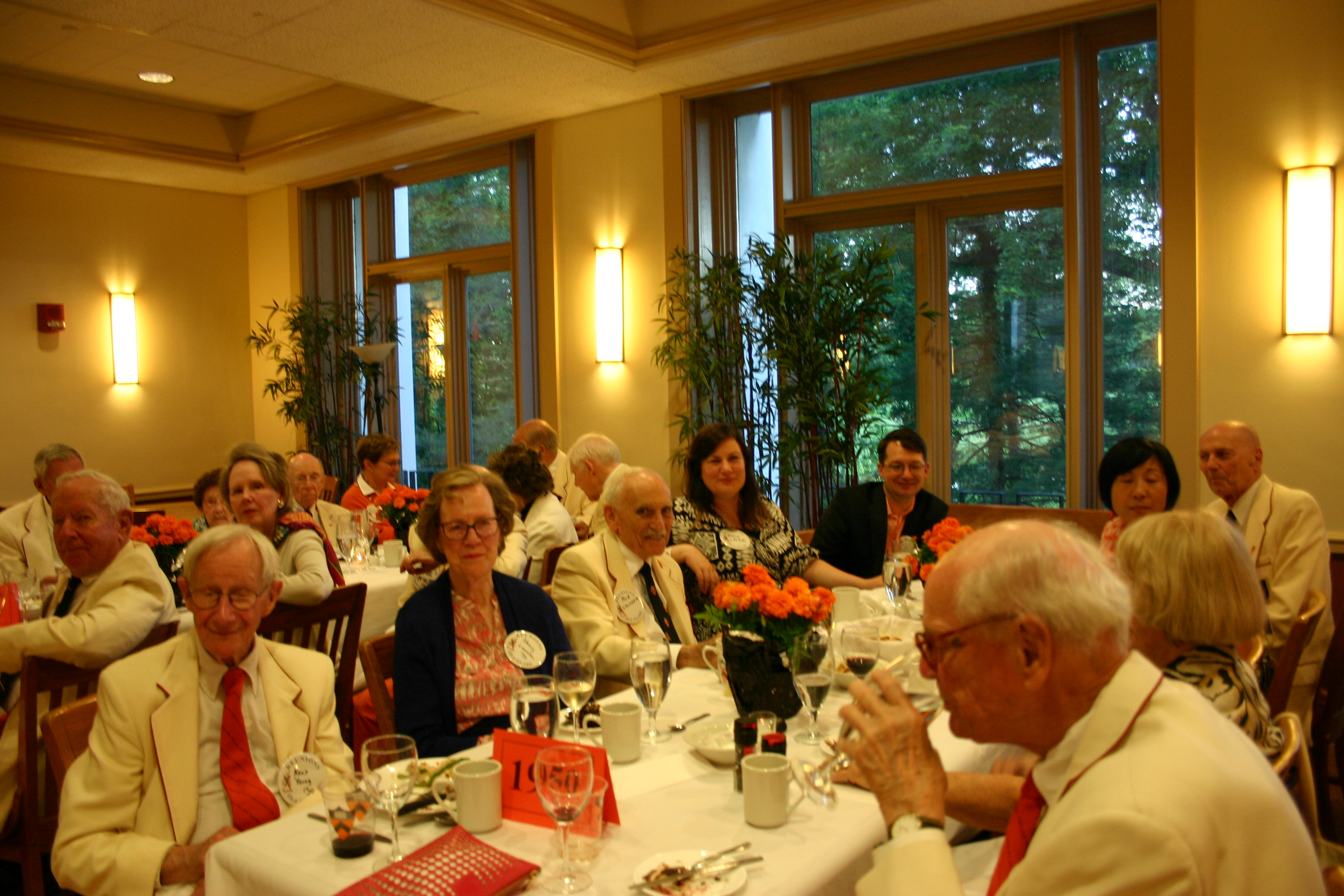 Will Rivinus, Joan Abbotts, Dickie Ann Boal, Al Abbotts, Deann Gutenkunst,
Kent Young, Nancy Lamason, Bob Cronehim, Mary Alexander, Nick Anderson, Sue Fou, Charlie Rose
Tex Lamason
We had the Trenton AOH Pipe Band in the P-rade. They even played Scotland the Brave for me. Dottie provided golf carts for the P-rade for free. Haynes, Rose and Young chose to walk, at least for this year.
At the reviewing stand at the end of the P-rade, Beth Rose '77 and Charlie Rose '50 sang the last line of Old Nassau the correct way "Her sons will give, and give and give"
-
NOTES. We do not list email addresses on this web site, since they are not password protected. You can get addresses for classmates who have listed them with Alumni Records by clicking on Tigernet.
The Web Manager is Charles H. Rose '50.
Logo and page design by Alfred Abbotts '50.
Page update 23 March 2004
©2004 The Princeton University Class of 1950.
This page was created by and for the Princeton Class of 1950.
The contained information is intended to be used for individual communication of a personal nature among Princetonians.
Use of this information for any other purpose is prohibited.
The Class of 1950 is solely responsible for the content.
Although every effort is made to keep the information accurate, it cannot be guaranteed.